The Journey from First Gig to Art Director
Iain White's journey from art department assistant to established art director for both television and film projects almost seems like it was his destiny, although it didn't always appear that way. No matter how anyone finds their start in the film industry, talent always seems to find a way. Iain always had an inclination for the arts and began his path toward art direction by building and painting sets for theatrical productions.
"Largely an accident" is how Iain likes to summarize his start in the industry. "I trained in theater, that was my background. I did lots of low-budget theater work…I was a scenic painter.", he reminisces.
The film industry is one where creatives of all types can contribute their talents and collaborate in the shared vision of cinematic storytelling. As an astute set designer, Iain was able to translate his skillset in stage productions to the medium of film. "I kind of fell into the art department. It was the 90s, and it made more sense to do a film. And [my first film] was in Italy, so it was nice to go away…It wasn't planned or anything.", he shares.
The project Iain's describing is Othello (1995), his first as an art department assistant. Starring Lawrence Fishburne and Kenneth Branagh, Othello was shot on location in Italy. "We shot in Venice, up and down the grand canal." he described. As a first-time crew member the experience sounds like it was right out of the movies. Establishing his foothold in the film industry, Iain quickly followed up that project by working on the critically acclaimed Kenneth Branagh adaptation of Hamlet (1996).
The rest is history: Iain climbed the ranks and established himself as a well-regarded art department professional working on projects such as Game of Thrones and Call the Midwife.

The Process and Challenges: Daily Life in the Art Department
Iain has a vast amount of experience under his belt after working within the art department for decades. When asked to reflect on his process, Iain shared that it has remained relatively consistent: 
"You usually come in, you break down the scripts, you look at the schedule, and you look where the locations are, and what the budget is. You do that on all [projects] to an extent…it usually starts with the script." 
However, sometimes even a script has been too much to ask for on productions. This is where many of the most challenging aspects of Iain's work originated. "I've been on a few things where the first day of shooting, we don't have a script…it makes it incredibly difficult." 
In Iain's experience, the difficulty or ease of a project really comes down to the communication between different departments on the project. "A big portion of my job is planning and implementing…you need to have all of the information you can. If you've got all of the information, then it's easy to plan." 
This sounds like this could be ProductionPro's motto. With the many moving pieces involved in a production, keeping a clear and simple-to-use channel of communication between departments can be the difference between a successful project, and one laden with headaches. 
Iain agreed, and pointed towards a recent experience in production that brought him to this conclusion. "I was on a road movie a year ago…we were traveling up England. It would have been great if we had a central resource…a digital version that could tell us…where everyone was, [and] where all of the documents were. All of that would [have been] really helpful."
Used by Hollywood's biggest studios, ProductionPro offers a variety of different services designed to make communication on a film production more synchronized. The platform allows all creative departments and studio executives to have the latest version of scripts, schedules, breakdowns and released designs in one secure location. 
When discussing the benefits of some of the features that ProductionPro can provide, Iain had this to say: "You need something like that…Those of us who work ahead need to know what's happening."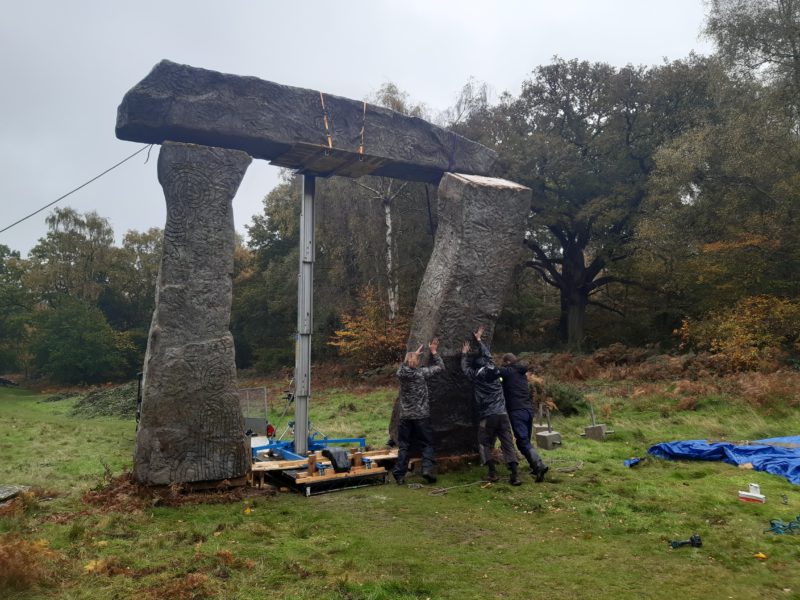 What's Next for Iain White?
Iain's extensive career and journey has allowed him to leave his mark in the industry already. Yet his career is far from over. When asked about what he predicts his next projects to be, Iain had a very candid response: "I haven't made any plans, professionally…if the project is interesting, I'd do it." He also remarked on the unpredictable nature of the industry. "Some of the stuff you put loads and loads of work into disappears. Other stuff is successful and you go 'really? Ok.'…I don't think you can guess it." 
Iain is the Art Director of the popular television series Ted Lasso which just finished filming its third season. It features Jason Sudeikis as an American college gridiron football coach who is suddenly relocated to England to coach a failing English Premier League team. The series has received critical acclaim and has won four Primetime Emmy Awards ahead of its third season. 
White described the process of signing on with Ted Lasso in his typically candid style: "When I met [Paul Cripps, the Production Designer] I thought it would be fun to do a football thing with him. That's been successful, but there was no expectation it would be particularly successful." 
All in all, we're in awe at the success of Iain's career. The film industry presents a world of opportunities for rising talents, and Iain's skill set allowed him to seize them to develop his career and prosper. 
We're excited to see where Iain goes next and happy that ProductionPro can support him and other creatives throughout the production process. We'd like to thank Iain for taking the time to share the story of his career (so far!) with us.