Guest Blog by Jennifer A. Haire & Gilana M. Lobel
Creating entertaining content is a never-ending search for the next good idea. From scripted dialogue to costumes, and set designs to exotic locations, production elements are always changing. There is an exhausting number of documents a production creates to keep the team informed and up-to-date. Helping to ensure you have access to the most current "good idea" is the job of the Production Office. Whether it's a stack of papers collecting on our desks or the continuous stream of incoming emails, finding new ways to make information easily available, keeping our productions organized and forging ahead, is a constant challenge. A new film & television production handbook, Keys to the Production Office, includes a comprehensive guide on how to properly set up, label, organize and distribute every kind of production document, whether it's with the old-fashioned paper workflow or electronically.
Electronic communication and information-sharing platforms have exploded over the past two and a half decades. There was a time when the Production Office would receive the original paper hard copy screenplay, (approved for cast and crew distribution) and be responsible for distributing printed copies to everyone from the EP to the 3rd grip – by hand. The original script would then be filed, in a manila file folder, with a printed label, alphabetically and by date in hanging files, organized in a giant, heavy four-drawer lateral cabinet. This process would apply to the mass of documents generated for and by the production – everything from storyboards to schedules, element breakdowns and look books, call sheets and production reports.  Of course, there may always be a need for some printed hard copies of files – contracts with original signatures need a home, and for some people being able to access a physical document is simply a preferred method of working. But in general, those days are mostly gone.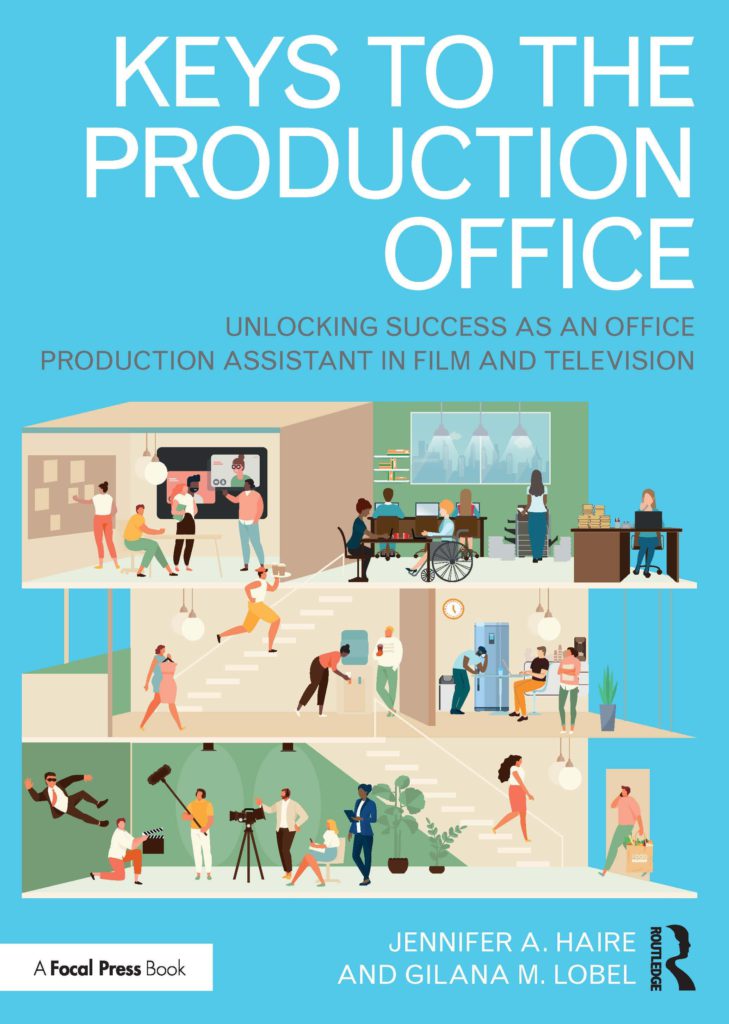 Keys to the Production Office
Unlocking Success as an Office Production Assistant in Film & Television by Jennifer A. Haire & Gilana M. Lobel
Save 20% with code ESA22 through Dec 31, 2022
Welcome to the era of digital file distribution and organization
Sure, most of us have already been organizing files digitally for a decade, but we've also been printing, scanning, and holding onto originals in some paper file systems too, sometimes even when we no longer need to (old production habits die hard!). Since almost all production documentation is digitally generated and signed, we can now focus on saving the trees and finding better ways for productions to work more efficiently.
Accessibility to the most current material is key. A well-oiled Production Office keeps information at its fingertips in the event any crew member, cast member, or studio executive needs it for reference. Proper asset and document organization requires a meticulous process. The challenge in going fully digital is creating systems that allow everyone to find files quickly and intuitively. When digitally and correctly filed, that information can be accessed remotely with the click of a button from anywhere, rather than having to slog through hundreds of folders. Time spent searching for documents ultimately amounts to valuable time wasted. For a fun reference, check out ProductionPro's Search Calculator and see how much time can potentially be lost looking for production information.
Organizing within the Production Office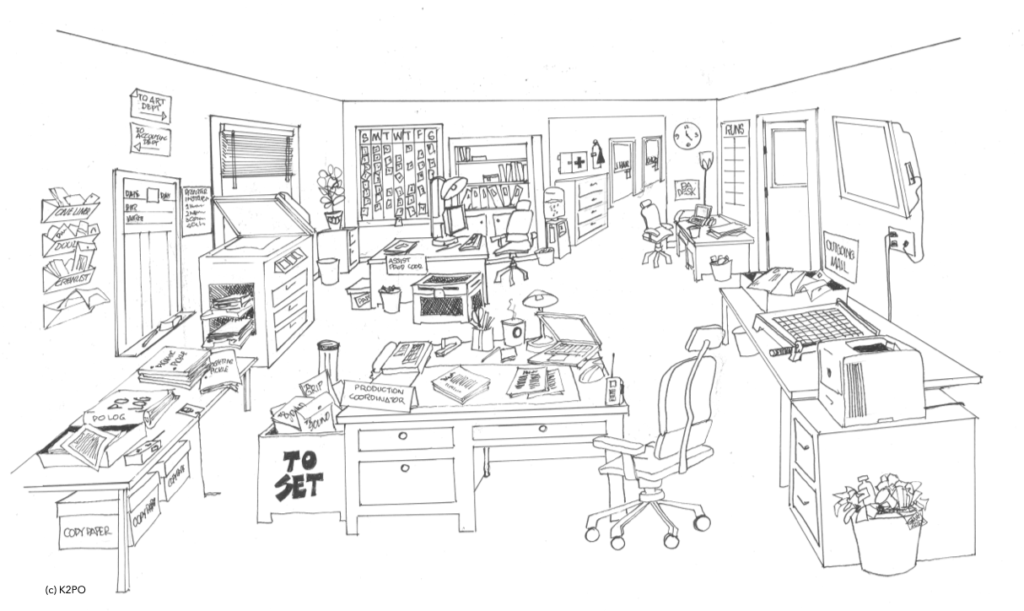 For those working in the Production Office, if files are organized with a traditional hierarchy (Folder, subfolder, document) and properly labeled (Cast, Cast Contracts, Contracts A-Z) it allows for any (approved) member of the office to have access to what they need, when they need it. Keys to the Production Office includes examples of how to design your digital file landscape so your team can easily access the information they need over the course of pre-production, principal photography and wrap.
Keys to the Production Office suggests these time-tested ways to organize documents:
Documents that apply to the entire production such as Scripts, Legal documents, and Look books.
Alphabetically (Cast, Casting, Clearances, Crew List, etc..)
By Category & Subcategory (Schedules: Prep Schedules, One Line, Day Out of Days, etc…)
Documents that apply to an episode or specific day of filming. 
By Filming Day and Date (Day 3 – May 4th 20XX: Call Sheet, Production Report, Camera Reports, Sound Reports, etc… Day 4 – May 5th 20XX: Repeat)
By Episode (Episode 101: Day SubFiles (as above), Cast, Locations, One Line Schedule, etc. Episode 102: Day SubFiles (as above), Cast, Locations, One Line Schedule, etc., Episode 203, etc…) 
ProductionPro follows this suggested organization for the production's digital Binder – the space meant for production-wide documents that need to be accessed by people outside of the Production Office. It is organized in sections that are tailored to each production and make it possible to recreate the recommended folder structure from above. The cherry on top is the archive toggle that makes it possible to separate current and archived documents within that organization. ProductionPro takes digital organization a step further with features like shared script notes, and real-time document updates, so everyone is literally on the same (digital) page.
Organization of creative assets outside of the Production Office
When it comes to keeping creative data organized (storyboards, set renderings, pre-viz), it can be quite challenging to settle on a one-size-fits-all solution. Indeed, the chosen organization system that works well for the Production Office might not work as well for everyone in all departments – people from the Art Department tend to think in terms of sets; people from Costume, in terms of characters; and people from VFX, in terms of scene sequences, for example. That's where ProductionPro truly shines and takes your organization system to the next level: it uses the structure of the story to organize production information by scenes, characters, departments and shoot days. That way, everyone, even the most techno-phobic people on your crew, can find what they need intuitively.
Digital file distribution and organization is "instant information gratification" for productions, it allows for the whole movie to fit in your pocket – whether it's legal documents, or storyboards for the day's scene, you can easily check a deal point in a cast contract or reference location and set photos. Keys to the Production Office can guide you through organizing, labeling and distributing the files and assets; ProductionPro can help you keep it all in one place and take it to the next level. Both will keep your production efficiently moving forward and onto the next great idea.
Follow Keys to the Production Office on Instagram and Facebook @keystotheproductionoffice www.keystotheproductionoffice.com
Follow the authors of this blog @thejenhaire & @awesomegilana