"In high school, I wanted to be an undertaker, a mortician…"
"Wait…what?" I said.
Jerry chuckles, and continues, "In my little town, we were friends with the guy who owned the funeral home. I think maybe because it was always so kind of glamorous – the funeral parlor and all of that.
"I wanted to be a priest also – the glamour of the priesthood was also appealing, you know all the pomp and circumstance…"
"You like the show," I offered.
"And that's why I ended up in show business!"
Loving the movies, being inspired by characters, wanting to effect change through theatre – I've heard many an origin story about how each of us came into the industry. But Jerry's funeral parlor story? That was a first.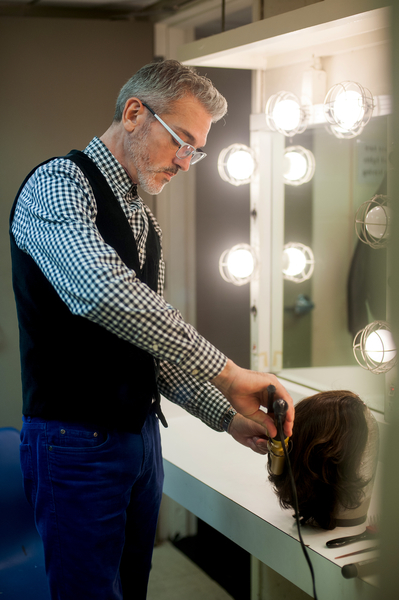 I first met Jerry Popolis – film hair department head and Robert De Niro's personal hairstylist – at a diner in Gramercy Park, New York City. It was hot, and the diner was hectic. But as I made my way towards the back where he was seated, I felt like I was walking into a zone of zen.
When you're with Jerry, you feel like you're being enveloped by a bubble of calm. You could be in a bustling diner at lunchtime, but you feel centered and focused, even though he's relatively soft spoken. It's no wonder, then, that the thing he values most – over his work achievements – is his reputation of "being a fair and really easy-to-work-with person."
"One of the most important things I try to get across to other hair and makeup people – even new people starting out – is that it's so important to work as a team. We're there for a long time – it should be fun, it should be calm, it should be enjoyable. "
It is this amiability and a major passion for the business that's brought Jerry this far. He's a 20-year theatre and film industry veteran whose major recent accomplishments include winning a Makeup and Hairstylist Guild Award for "Birdman". He's also a newly-minted member of the Academy of Motion Picture Arts and Sciences.
For Jerry, having those years of experience doesn't mean he gets any less stressed.
"When I start a project, I don't sleep for days. I mean…I do, but I'm awake in the middle of the night restlessly thinking about what I need to do.
"In the beginning of prepping for something big, it can be very stressful."
That's because if he isn't on his game at all times, it could cost the company "hundreds and hundreds of thousands of dollars." This means that a seemingly isolated departmental error or an inability to fix an issue could lead to production delays, which mean additional hours for all cast and crew, among other things.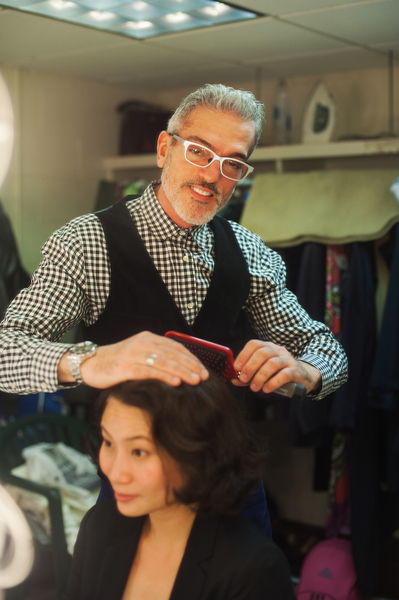 One thing Jerry's years of experience has taught him, however, is to be extremely adaptable to changing circumstances. So instead of viewing things as unexpected emergencies, he simply treats them as yet another production challenge to work on.
Over the years, Jerry has had to change the way he works due to the many shifts in the way film is created.
"High definition has changed us a lot. It's made us much more critical and attentive of what we're doing."
This means the camera may pick up a flyaway strand of hair, even if you don't observe it with the naked eye. In such instances, Jerry says the cameramen have his back, and would let him know if anything were out of place.
Another major shift in filmmaking in the last two decades is that "the industry has become very corporate."
"The studios before, they allowed the departments to be free about what they're creating. If I said I needed four wigs for this actress because she was going through all these different looks…it was never a question. The days of spending freely don't exist anymore."
That said, Jerry acknowledges the importance of doing his part to – at the very least – help keep production on budget. He even tries to save production some money by repurposing some wigs – if working with the same actors those wigs were made for – and reusing hair products.
Such stress aside, Jerry enjoys getting to exercise his own brand of creativity – even amidst demands and requirements set by the studio and creative team.
"We get to maybe push the trends a little bit more with the actor or actress, which obviously sets the trends of the entire country or world sometimes. Like Meg Ryan's haircut – that changed the look of that hairstyle around the world, and every woman wanted to have that hairstyle."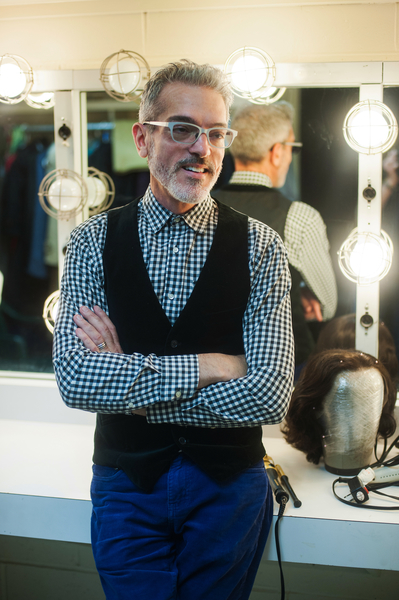 In spite of his achievements, especially in recent years, Jerry still finds it hard to be unabashedly proud of his work.
"You always doubt yourself and how good the work is. As any creative person, you always see the flaws that other people don't see. But this last year has been pretty incredible for acknowledgements – first the Guild Award for "Birdman", and I was able to present "Noah" to the Academy as a consideration for hair and makeup.
"The acknowledgement from your peers is a great pat on the back for you, because you don't necessarily see what you do as being that great or impressive."
There's one thing Jerry holds a very silent pride – and peace – in, and that's being able to use his professional skills to prepare his mother for her final send-off.
"When my mother died, I did her hair and makeup. I felt good about doing it… It was actually comforting to be with her at that time, to get her ready."
So is this any indication of what he'd be doing if he weren't in show business?
"Who knows, maybe when I retire, I'll become an undertaker."
Or – as he mentioned before all this undertaker talk – sell fresh produce from his garden at the local farmers market.
Jerry walked me about halfway to the subway station, where he had to diverge for another appointment. We hugged (because come on, that was quite the conversation we had, no?) and parted ways.
I floated around in that bubble of zen for the rest of the hot, humid New York day.
Did You Know?
Custom wigs usually take about six weeks to make, and cost between $7,000 and $9,000 each, depending on how intricate it is and who's making it. Every single strand of hair is put in by hand, and is made to the exact specifications of the production – including how they'd want the hair to move.
"For a lead actor who has to wear the wig for the entire film – he's the one that the audience is going to be looking at on a screen in high definition – you can't have something that's not perfect. Sometimes you make a plaster mold of that actor's head to get exact shape of his head, outline the hairline, and get the measurements sent off to wigmaker."
Photography by @juanmdelgadocol